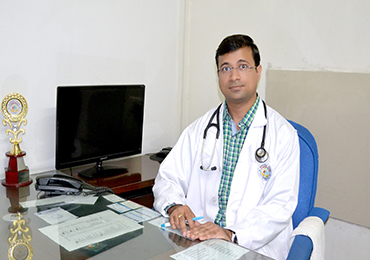 Dr Ritesh Bansal
MD Medicine
OPD TIMING
10 AM TO 5 PM
Dr Ritesh Bansal
MD Medicine
OPD TIMING
10 AM TO 5 PM
Clinical Experience
G.S.V.M. Medical College, Dept. of Medicine, Kanpur, UP, India.
3 years clinical experience in various sections of departments:
Indoor ward and OPD Postings under guidance of experienced Professors and Associate Professors.
Performed various procedures.
CVP line placement (Internal jugular/Subclavian).
Dialysis catheter placement.
Arterial line placement.
Endotracheal intubation
Bone marrow aspiration.
Lumbar puncture.
Pleural/Ascitic fluid tapping.
Work experience
Intensive care unit, Fortis Hospital, Vasant kunj, Delhi.
Deparment of Nephrology, Institute of Liver and Biliary Sciences,Vasantkunj, Delhi
Department of Medicine, Hindu Rao Hospital, NDMC Medical college, Delhi.
Synergy Plus Hospital Agra from April 2015 to till now
CME's attended
4th National Conference of AIDS Society of India (ASICON)-Lucknow, U.P-Dec 2011.
National neurology update- March 2013.
Poster presented on clinical Trial of LMW Heparin in treatment of ischemic stroke.
National neurology update- March 2013.
BMJ Master classes for General Practitioner: Cardiology, Respiratory Medicine and Paediatrics-June 2011.
Super Speciality CME PG Institute of medicine GSVM Medical College Kanpur- Oct 2011.
Participated in World Heart Day celebration and attended CME and Health Camp at Indian Medical Association, Cawnpore club-Sept 2011.
CME on Medical Paper writing in Dept of Surgery, GSVM Medical college, Kanpur- Feb 2013.