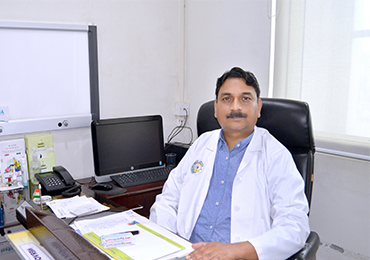 Dr Arvind Kumar Agarwal
MBBS, MS(Gen Surgery), MCh(Neurosurgery)
Director and Head: Neurosciences, Neuro and Spinal Surgery
OPD TIMING
10 AM TO 5 PM
Dr Arvind Kumar Agarwal
MBBS, MS(Gen Surgery), MCh(Neurosurgery)
Director and Head: Neurosciences, Neuro and Spinal Surgery
OPD TIMING
10 AM TO 5 PM
Dr. Arvind Kumar Agarwal is a well known Neuro and Spinal Surgeon with a vast experience of more than 20 years in the field of Neurosurgery. He has been trained in all aspects of Neurosurgery and Spinal Surgerey at the apex superspeciality institue of India 'Post Graduate Institute of Medical Education and Research, Chandigarh.
Before joining Synergy Plus Hospital he was associated with Pushpanjali Hospital, Agra as Head Neurosurgery and previously with Heritage Hospital, Varanasi.
His urge to update him on latest development has led him to attend different seminars and conferences. He has presented papers and chaired sessions in various conferences.He also completed Comprehensive Trauma Life Support [CTLS] Course and Instructor Course for the Trauma Courses of International Trauma Care (Indian Chapter).
He deals with all kinds of neurological emergeny cases and has a special interest in trauma and spinal cases. He is also doing endoscopic neurosurgery and microneurosurgery routinely.
Membership
Lifetime membership of Neurological Society of India.
Lifetime membership of Neurotrauma Society of India.
Lifetime membership of Indian Medical Association.
Lifetime membership of IMA- AMS.
Lifetime membership of Indian Association of Clinical Medicine.
Clinical Focus
Management of Head Injury and Spinal Injury.
Brain tumors and Spinal tumors.
Slip disc, Cervical Spondylitis, and Sciatica.
Brain Henmorrhage, Paralysis, Stroke.
Headache, Backache, Pain in neck and limbs.
Tubeculosis of spine and brain.
Hydrocephlus and Meningomyelocele.
Epilepsy and Migraine.
Trigeminal Neuralgia.